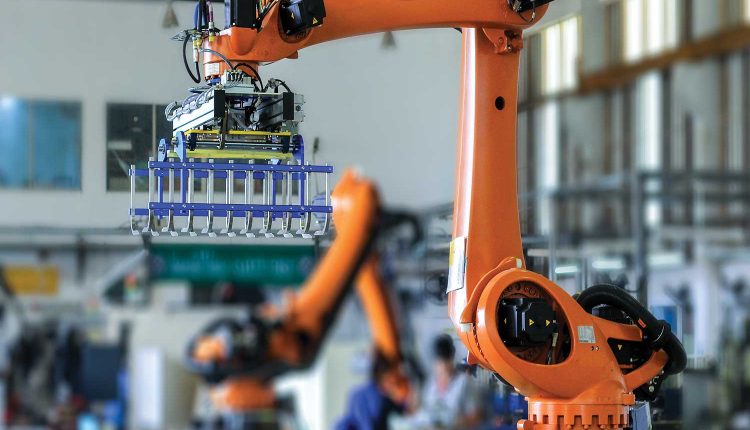 04.14.2021
NAI, a leading designer and manufacturer of custom interconnect solutions which deliver power and signals for monitoring data, connecting people and keeping equipment performing, has announced its fiber optic and copper interconnect capabilities for robotics and related automated equipment in industrial and commercial applications.
NAI makes cable assemblies, harnesses and box builds to support a variety of industrial technologies. With broad experience in the engineering and manufacturing of rugged interconnect solutions, NAI is well suited to produce these products for factory floor robotics, C-tracks, gantry systems, machine tools, pick and place, and other industrial automation equipment. Assemblies can be made for a range of flexing applications, from minimal to high.
For continuous flexing with either articulated or cartesian motion, NAI can avail itself of many cable designs and resources that have passed testing and are rated for various flexing cycles, from one million cycles to 20 million cycles. In addition, a variety of available cable jackets can provide protection from various harsh environmental conditions, such as those found on the factory floor or outdoors, including temperature extremes, moisture, oil, gas, chemicals, UV exposure and more.
NAI can also produce interconnect solutions for service robots, including domestic robots, event robots, robots for use in retail stores, and many more. A recent NAI project involved several service robots to operate in retail store environments. NAI is manufacturing a variety of different assemblies for this project. At the project's inception, NAI delivered all first articles within six weeks. The NAI global supply team also recommended alternative materials which reduced the lead time for delivery of the assemblies.
NAI received this service robotics assembly project order due to their trusted supply relationship with the customer, their ability to provide the best lead times and their ability to deliver a quality product that meets all specifications.
Robotic cable assemblies can be somewhat simple in design, but also range in complexity to harnesses with many terminations.
An important factor is for the assembly to meet the manufacturing and safety requirements for the application. All robots need to be built with a "critical-to-life" application in mind, particularly medical robots used for surgery. Therefore, the integrity of signals is critical to transmit the intended instructions for proper operation of the robot.
NAI employs many design and production processes within their Quality Management System to ensure that all assemblies, harnesses and box builds are tested for performance to specifications and will work as expected in the field.
NAI can provide cable harnesses as an alternative to individual cable assemblies to improve production efficiencies with pretested harnesses that can be installed and positioned properly and more easily.
NAI is available to help you find the right interconnect solution for your project. Let's start a conversation and let us know about your application. Or call our Solutions Center at 248.817.4106.
To learn more about NAI, please visit the NAI website.
About NAI
NAI is the most resourceful interconnect solutions provider customers count on to solve design, manufacturing and logistics problems. Offering copper and fiber optic cable assemblies and harnesses, coupled with block assemblies, panel and box builds, NAI provides an unparalleled breadth of capability. Being remarkably scalable, flexible and agile, NAI customer projects are brought to life very quickly, while meeting or exceeding expectations and delivering high reliability.
NAI strives for high integrity with customer relationships by providing notable transparency and delivering on promises. Product and market diversity, an extraordinary talent base
and an ability to supply globally are distinct characteristics of NAI.
Only NAI provides this unique combination of company attributes, distinguishing them as the most reliable supplier of interconnect product solutions and expert service.