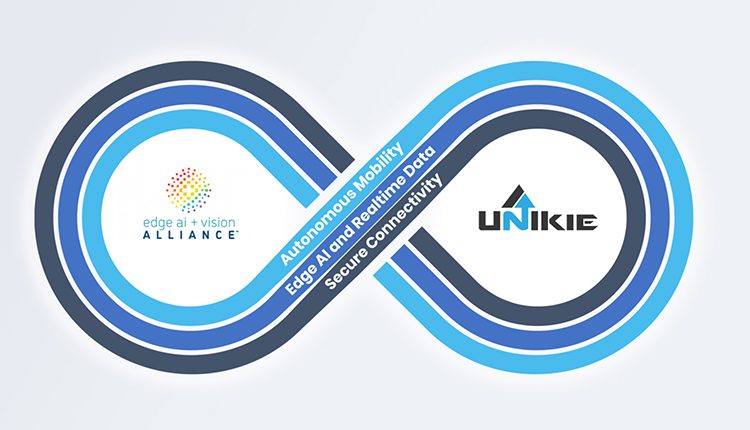 02.10.2021
Deep technology company Unikie Inc. has joined the worldwide Edge AI and Vision Alliance industry partnership. Unikie is specialized in demanding device-edge-cloud-based software and aims to serve the global market. The company's spearhead is Unikie AI Vision, a comprehensive Edge-AI/ML solution.
The Edge AI and Vision Alliance provides the leading global ecosystem to drive every machine, device and service to become intelligent. It offers Unikie a platform to advance the visibility of its deep technology competence and solutions around key areas of Autonomous Mobility, Industry 4.0 and Secure Connectivity.
"At Unikie we look forward to working together with other members of the Alliance to accelerate this transformative step especially in automotive and industry 4.0 segments. Unikie's AI Vision, the hardware independent situational awareness and sensor fusion solution, will be our first concrete offering to complement the adaptation of edge AI and vision technology to create smarter and more seamless interactions to our customers as part of their products and services", says Petri Talala VP & General Manager Northern America at Unikie.
The Alliance now has more than 100 member companies, ranging from name-brand multinationals to newly formed startups. All have found common ground around edge AI and embedded vision: they are producers of technologies, products and services, or are interested in finding ways to leverage AI and vision in their end products.
"We're pleased to welcome Unikie to the Edge AI and Vision Alliance," said Jeff Bier, founder of the Alliance. "The use of AI to turn sensor data into perception brings compelling capabilities to a wide range of applications. But developing robust solutions in this space is challenging. Unikie's AI Vision framework is a welcome option for product creators developing and deploying demanding edge AI perception capabilities."
Unikie AI Vision is a hardware-agnostic edge-AI/machine learning framework that enables fast development of various real-time applications. It contains a sophisticated library of AI-enabled algorithms to implement features like SLAM, path planning, vehicle control, object detection, and tracking and classification, depending on the particular application. It can be used in various industrial verticals and use cases – automated valet parking (AVP) will be one of the highlights for immediate collaboration with other Alliance members.
AVP solution for car manufacturers – for consumer use in 2023?
Unikie's AI Vision, combined with real-time data transfer, will enable the breakthrough of autonomous devices and processes. Embedded vision, digital twins, and secure data streams, together with machine-assisted decision-making, are characteristics of the technology markets on which Unikie is focusing.
"Our own state-of-the-art product is an automatic valet parking (AVP) solution that allows the driver to drop their car off to be handled automatically by the parking system. The driver saves time and cars can be stored in a more compact space than a normal parking garage", Mr Talala explains.
Automated parking will gradually become more common, starting with enclosed spaces. The first destinations are car factory storage areas and port loading areas. Consumers will be using the feature at airports beginning in 2023, according to Unikie's estimate.
Wide range of applications in industrial automation
Unikie's technology also enables industrial use cases and autonomous operations in restricted areas; in construction, forestry and agriculture, for example. Machines can do automatic and driverless operations to save resources, improve safety and efficiency.
In addition, Unikie's AI Vision, while being hardware-agnostic, has a wide range of applications in all processes that benefit from embedded vision and AI. As an example, it has already been successfully implemented in the Quality Assurance and Quality Management of industrial processes, where raw materials can be assessed, processed and handled depending on their quality, structure or other physical attributes.
The power of edge AI in conjunction with Unikie AI Vision and Cloud computing competence offers distributed intelligence and decision-making for efficient and reliable production and manufacturing.